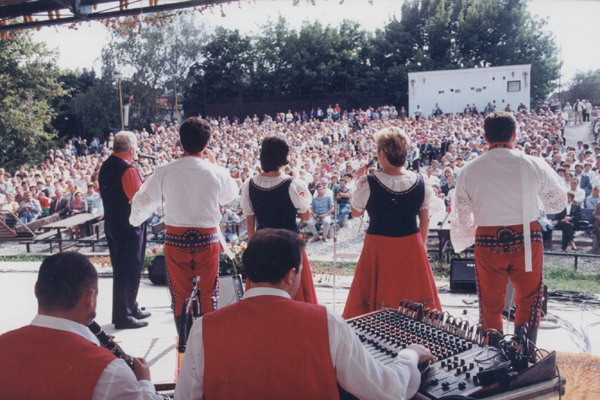 Sold out halls and hundreds of thousands of sold out records in our country as well as abroad, a wide circle of listeners of all generations- that is the most convincing proof of sympathy and popularity for the brass band Moravanka of Jan Slabák. The basic root of success is in the musical performance of each composition. All of the brass band members are outstanding musicians, who graduated from Brno Musical Conservatoire and Janáček Academy of Musical Arts with practice in symphonic or dance orchestras. The repertoire is very pleasant, as it builds on Moravian folklore, mainly from Slovacko, which is naturally lively and temperamental. However, the main source of popularity is the individualistic sound and style Moravanka interprets each composition with, as it is closer to a jazz-band than a typical brass-band.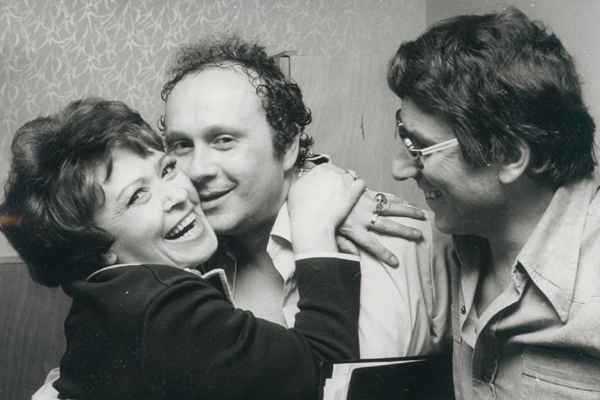 The founder of Moravanka is Jan Slabák. He was born in Kelčany on March 24, 1941, a small village not far from Kyjov, which is a region where the music was always full of vitality and explosivness and where the folklore traditions are very alive up to this day. After successfuly graduating from Brno Musical Conservatoire he became a member of the State Philharmonic Orchestra of Brno. At the same time he was involved with many other orchestras, starting with "small brass band", the Dance and Jazz Orchestra of Mirko Foret and Gustav Brom, the Symphonic Orchestra of Bratislava Radio. He also endeavoured in the remote studies of Janáček Academy of Musical Arts. He became number one soloist in Brno's concert halls and thanks to the Brno Philharmonic Orchestra tours abroad, his name and his music reached the interest of Herbert von Karajan, who invited him to take part in the competition for an opening in the "Berlin Philharmonicians". The competition date collided with the overseas tour of the Brno Philharmonic Orchestra, therefore;
he had to give this project up and instead of coming to Berlin, in 1972, he came to Brno Radio with a suggestion that he will put together a Studio Brass Band. As a prospective director he had a definite idea concerning the aim, cast and sound of the new band: "It will be a Slovacko Brass Band, the same we have in my home town in the Kyjov region". Already, the first radio recording of J. Slabák's Moravanka aroused a great amount of attention. However, the decisive break was in March 1973 during their television show called "You don't know Moravanka?" in which they presented the entire program of the Orchestra. In spite of the fact that the show took only 40 minutes, the success was exceptional. The demand for more live recordings and TV programs grew very quickly and it became a dillema for all Orchestra members, should they leave their jobs in Brno Opera and Symphonic Orchestras and pursue exclusively the Brass Band line? Most of them stayed loyal to Moravanka and in 1978 this Orchestra was stabilized as a professional group, which is now managed in our country as well as abroad by Mgr. Jan Hlaváček.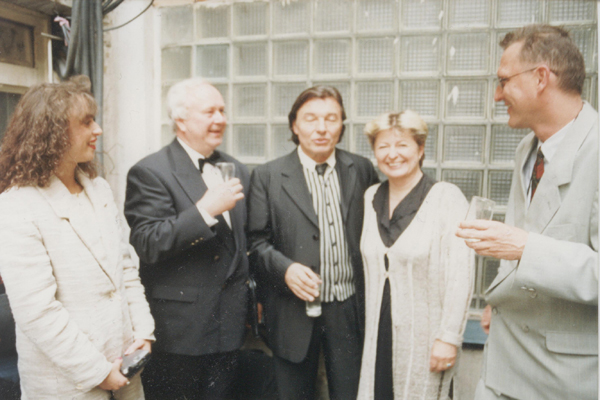 For their excellent qualities, the recordings won the "Golden Shield of Panton" in 1975 and six gold records, which they were awarded for selling more then four million records, MCs and CDs. In the year of 1995, MORAVANKA obtained a platinum record and in 1996 a diamond record. Most of these recordings are available in various countries - for example in Germany, Holland, France, Switzerland, Austria, the United States and under protection mark TELDEC for the countries of BENELUX in German translation, where Moravanka is very popular.

The four soloists, who sing with Moravanka now are, Ivana Slabáková, Daniela Magalová, Břetislav Osička and František Uher.

Jan Slabak's Moravanka with its instrumentations and original conception raised a new renaisance of Czech brass bands not only in our country, but also abroad. With no surprise, foreign journalists complimented Moravanka by calling it "The queen of Czech Brass Bands".